London, Oct 18, 2010 (Calcutta Tube) Troubled actress Lindsay Lohan's mother Dina has banned her ex-husband Michael from seeing their daughter because he has allegedly been spreading falsehood that Lindsay tried to buy drugs.
Dina alleges that her former spouse has been telling lies that Lindsay — currently undergoing rehabilitation treatment in Los Angeles — tried to buy drugs this week. She has now made the decision to cut him out of the actress' life — completely.
Lindsay has been told of her mother's wishes and she reportedly agrees with the decision.
'Lindsay's father Michael, my ex-husband, sold a totally untrue story saying Lindsay tried to buy drugs again. It's quite simply nonsense. She hasn't even set foot outside the Betty Ford Clinic,' femalefirst.co.uk quoted Dina as saying.
'It's terribly sad that when Lindsay needs the support of her friends and family most, her father would betray her like this. For her sake and in the interests of her swift recovery, we feel it's best that Michael has no contact with his daughter whatsoever. This has been discussed with Lindsay and she agrees that this is the best course of action,' she said.
Dina, 48, has also ordered the staff at the Betty Ford Clinic to not let Michael see Lindsay for any reason.
'We have spoken to the clinic and Lindsay has given instructions that Michael is not to be allowed access. She needs support and a calming environment at this time and his presence will not help matters,' she said.
JUST MY LUCK – Lindsay Lohan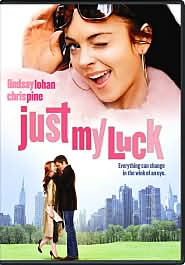 Two people discover just how true the old adage "lucky in life, unlucky in love" can be in this romantic comedy. Ashley (Lindsay Lohan) has always been the sort of girl fortune smiles upon — she's pretty, she has a great job, she had good friends, guys fall over themselves to ask her out, and she never has trouble getting a cab. Jake (Chris Pine), on the other hand, is not nearly so lucky — he's clumsy and accident prone, things never seem to go his way, and he's just lost his job at a bowling alley. However, these two opposites meet one night at a ritzy masquerade ball, and Ashley and Jake exchange an impulsive kiss as two shooting stars cross in the sky. Suddenly, they both find their luck taking a one hundred and eighty degree turn; Jake is befriended by a wealthy musician and suddenly finds himself successful and flush with cash, while Ashley loses her job and her apartment after a major misunderstanding with the police. While Jake's luck with women has also taken a turn for the better, he's become deeply infatuated with Ashley, and tries to help her turn her life back around as he struggles to win her heart. Just My Luck also stars Samaire Armstrong, Faizon Love, and Tovah Feldshuh