New Delhi, Oct 23 (Calcutta Tube) It seems that superstar Shah Rukh Khan has still not come out of his superhero persona.
After doing some death-defying stunts for sci-fi thriller 'Ra.One', the actor took a 300 feet plunge while shooting for Farhan Akhtar's 'Don 2' in Berlin.
'Just did an over 300 feet base jump for Don… because you all make me believe I can fly. Time to tell kids about the birds and the bees… ha ha,' Shah Rukh wrote on microblogging site Twitter.
'My jump was last shot of day. Want to thank my duplicate and action team, to do it before me for wide shots and make me feel confident about it,' he added.
My Name is Khan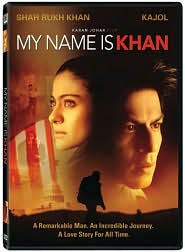 Karan Johar, Shah Rukh Khan,Kajol,Tanay Chheda,Jimmy Shergill, DVD – Wide Screen / Subtitled,20TH CENTURY FOX, Running Time: 02:25:00Usually ships within 24 hours
-*-*-
Tusshar wants to be paired with Kareena again
Actor Tusshar Kapoor has expressed a desire to be paired with actress Kareena Kapoor again in a film.
Tusshar wrote on microblogging site Twitter: 'Of course would love to be paired with Kareena, I think we have great on screen chemistry.'
Both actors were paired opposite each other in two films 'Mujhe Kucch Kehna Hai' and 'Jeena Sirf Merre Liye'. They were later seen in 'Golmaal Returns', however, Kareena was paired with Ajay Devgn.
-*-*-
Vidya skips lunch to learn Malayalam dialogues
Bollywood actress Vidya Balan stunned everyone on the sets of director Santosh Sivan's Malayalam venture 'Urumi', when she flawlessly delivered her Malayalam dialogues just minutes after learning them.
After performing a special song for 'Urumi', Vidya was offered an impromptu special guest appearance in the film where she was asked to learn a five-page Malayalam dialogue just minutes before the scene.
'Vidya's guest appearance was a spot decision and she was handed the dialogues just over 10 minutes before the scene – she skipped lunch and sat to learn the lines and stunned everyone with her flawless dialogue delivery. She was so good in fact that she moved everyone on the sets,' said a source.
The filmmaker now wants to work on a full-fledged film with Vidya Balan. 'Santoshji has often said that Vidya's eyes can convey a thousand words – and after having her as guest in 'Urumi' he is kicked about doing his next film with her,' the source added.
Sign up for NETFLIX and watch movies FREE for one month. For $8.99 unlimited online HD streaming of films and unlimited home delivery.
Check out all of the NEW DVD/BLU Ray Releases
With more than 15 million members in the United States and Canada, Netflix, Inc. [Nasdaq: NFLX] is the world's leading Internet subscription service for enjoying movies and TV shows.  For $8.99 a month, Netflix members in the U.S. can instantly watch unlimited movies and TV episodes streaming right to their TVs and computers and can receive unlimited DVDs delivered quickly to their homes. In Canada, streaming unlimited movies and TV shows from Netflix is available for $7.99 a month.  There are never any due dates or late fees with Netflix. Among the large and expanding base of devices streaming from Netflix are Microsoft's Xbox 360, Nintendo's Wii and Sony's PS3 consoles; Blu-ray disc players from Best Buy's Insignia brand, LG and Samsung; Internet TVs from LG, Samsung, Sony and VIZIO; the Roku digital video player and TiVo digital video recorders; and Apple's iPhone, iPad and iPod touch.  All of these devices are available in the U.S. and a growing number are available in Canada.  For more information, visit http://www.netflix.com.